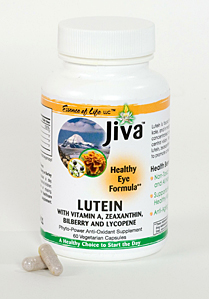 Price: $29.95

Jiva Lutein Plus

JIVA Lutein Plus Capsule Formula: Contains all natural extracts of lutein blended with natural powerful antioxidants found in zeaxanthin, lycopene, bilberry, and Vitamin A to provide healthy eye protection from free radical damage.

Found in green leafy vegetables such as spinach and kale, lutein also bounds to one or more fatty acids presents in some plants such as marigolds. In human, lutein is presented in a concentrated area of the retina which is responsible for central vision. Research has been conducted on the role of lutein, zeaxanthin, bilberry extract and Vitamin A in the prevention of Age Related Macular Degeneration. Lutein and zeaxanthin being carotenoids have a positive effect on eye health. Bilberry contains Vitamins A and C, providing antioxidant protection which can help prevent free radical damage to the eyes. Vitamin A is required for sharp vision, while Vitamin C helps form collagen and is needed for growth and repair of tissue cells and blood vessels. Bilberry also contains nutrients needed to protect eyes from eyestrain or fatigue, and can improve circulation to the eyes.

Suggested Use
For health maintenance 1-2 capsules a day. To support a healthy heart and maintain healthy immune system: 2 capsules twice a day.

Warnings
If you are pregnant or nursing, please consult your healthcare practitioner before taking any dietary supplement.
Ingredients